3rd Stone Designs' laser-cut maps identify you as part of your community. 
I've been trying to figure out why it is that I love what I do so much ever since I stumbled across the idea of using a laser cutter to create layered maps of the suburbs of Melbourne about a year and a half ago.
Whilst I'm not what you might call a map freak or anything, and I'm not sure what a map freak might look like anyway - I have a relative who collects editions of the Melways and has nearly a complete set dating back to the elusive, expensive and very collectible first edition from 1966. - that would be the closest I've come across.
In another age I spent the best part of a year travelling around Europe and parts of the Eastern Mediterranean and Agean such as Greece, Turkey and Israel. I did my fair share of hitch-hiking and carried the Lonely Planet and Let's Go guides and accumulated maps wherever I went. By this admission I'm very much  a dead giveaway as a pre-internet backpacker and it's true that it felt like one very big adventure as many of the places I visited I travelled solo. Maps were something to pore over as the road was as open to me as I'd ever felt and they informed my next moves and fired my imagination. I might decide to visit a place for no other reason than that the name sounded cool.
In this sense they acted sometimes as a second passport or sometimes as a compass or divining rod. They were certainly compact and tactile. They were a canvass upon which to doodle or a notebook upon which to hastily scrawl tips and hints.
At the years' end they were a fantastic keepsake and record of a time I will never forget. 
I get the distinct feeling that there are many out there a bit like me. I try to talk to my customers as much as I can and the enthusiasm with which I am greeted for the maps I make is palpable. Whilst the reasons for wanting to buy them are many and varied, there is, at its core, a common identifier of connection and memory associated with maps that are a fabulous touchstone for many positive emotions. This is the reason I think that for many people, they make such a great gift. They are a versatile gift too as they can be as occasion specific as a housewarming present and yet no less impacting when given as a birthday, Christmas or graduation gift. They are brilliant to send to expats as a reminder of home. You can give them to work colleagues who are moving on. These are just a few examples of their instant appeal as a personal gift with a difference.
That's not to mention how perfectly they communicate a sense of belonging and being a part of a community.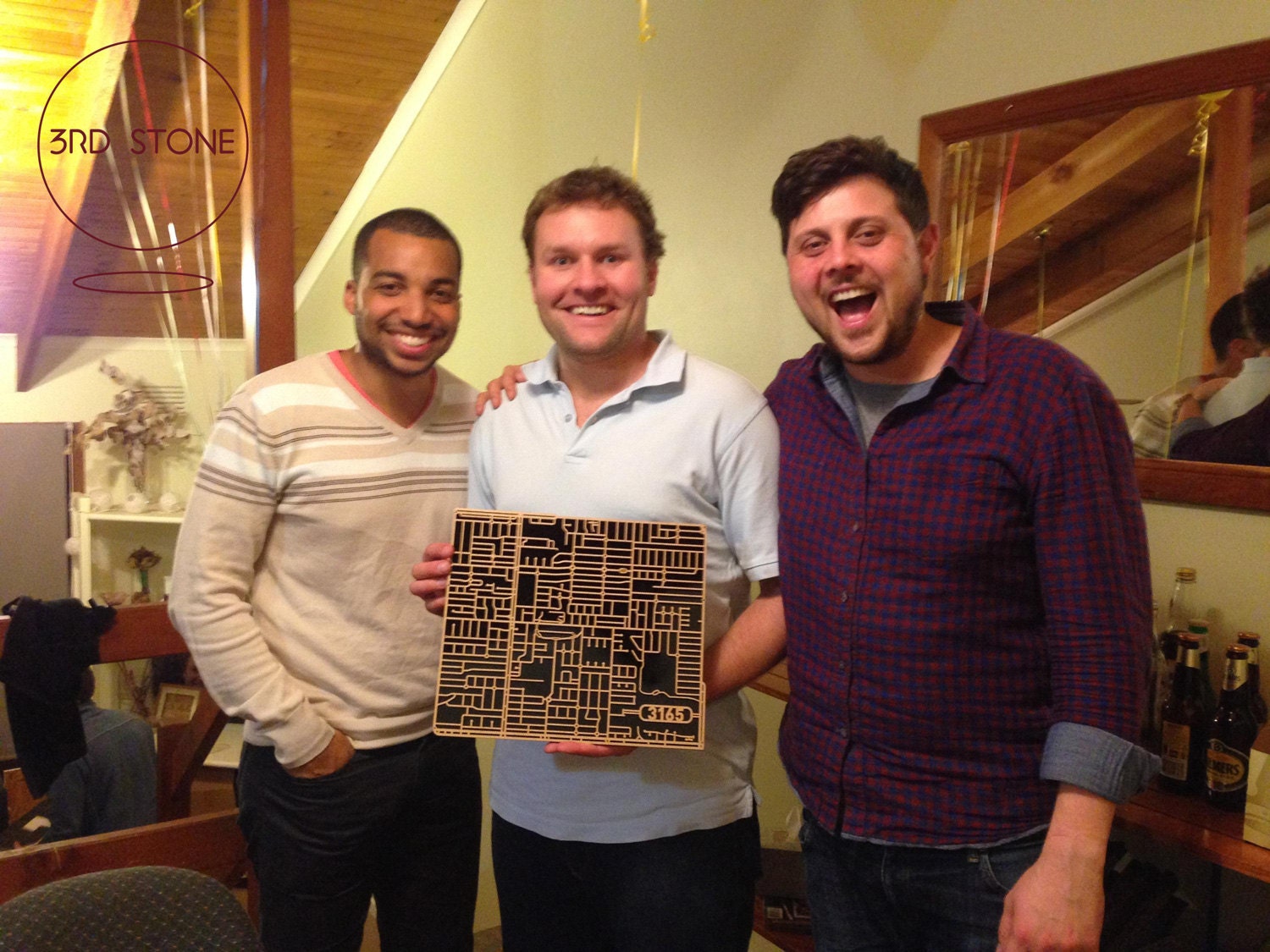 Some happy givers and receivers.
Written by
Denis Bainbridge
Director at 3rd Stone Designs